SHS, LCHS playoff bids end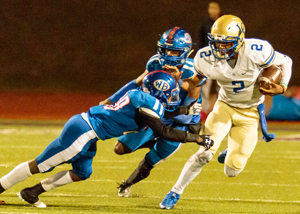 Photos by Roger Mathis, www.mempics.com
Mustangs defeated by The Woodlands
Despite incredible numbers like 532 combined yards gained and 417 passing yards by Jalen Mayden, The Woodlands defeated the Sachse Mustangs by a final score of 51-40. This area round playoff game was held at Waco ISD Saturday, Nov. 19.
Mayden scored two rushing TDs, 1- and 10-yarders and Kelon Wilson caught three Mayden passes for scores. Mayden and Wilson first connected in the second quarter on a 41-yard pass reception and again in the fourth quarter on 72- and 64-yard pass receptions.
Wilson had six catches for 220 yards.
The defense added a TD when Hunter Spears recovered a fumble in the end zone.
Beaumont West Brook gets win over Patriots
The Lakeview Centennial Pa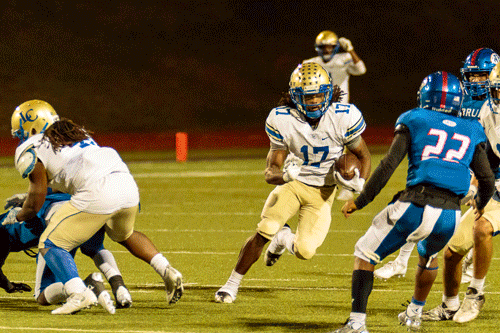 triots also competed in the area round of playoffs against Beaumont West Brook Saturday, Nov. 19. West Brook got a 69-45 win over the Patriots. This season marked the first playoff appearance by the Patriots in more than 20 years.
Darien Osorio put LCHS on the board in the first quarter with a 23-yard field goal. Calen Mayfield scored five times in the third quarter. He scored a TD on an 80-yard punt return and caught four TD passes, 25-, 16-, 17- and 5-yarders, from quarterback Kamron Fields.
Fields also scored on a 30-yard run in the fourth quarter. He ended the game at 17-31 for 160 yards and collected 166 rushing yards in 12 carries.
Congratulations to the Mustangs and the Patriots on great seasons.