SHS QB Under Armour finalist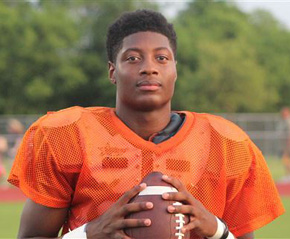 Sachse Mustangs quarterback Jalen Mayden was named a finalist for the 2016 Under Armour Texas High School Quarterback and Receiver of the Year awards. Winners will be announced in January.
Red Behrens, Sachse High School head football coach, is proud of Mayden's accomplishment.
"To be a finalist is a great honor for Jalen," he said.
Mayden, who will graduate in 2018, served as SHS quarterback last year as a sophomore and this year as a junior.
In those two seasons, he completed 306 of 462 for 4,579 yards. He also rushed for 1,128 yards.
This year's awards are presented by Under Armour and The Quarterback Ranch and are based on play during the 2016 regular season. The finalists and winners are selected by a panel of statewide media members and former players and coaches.
Each finalist will receive a custom award football and each winner will receive a custom trophy, all provided by Under Armour and The Quarterback Ranch.
They honor the Class 6A-5A Quarterback and Receiver of the Year as well as the Class 4A and below and private schools Quarterback and Receiver of the Year.
The Quarterback Ranch, based in Southlake is a football skills training program that provides individual and group training and partners with school athletic programs to provide on-site off-season training.
Under Armour, founded in 1996, is the originator of performance apparel – gear engineered to keep athletes cool, dry and light throughout the course of a game, practice or workout.
Photo: 247 Sports