SHS signees celebrate accomplishments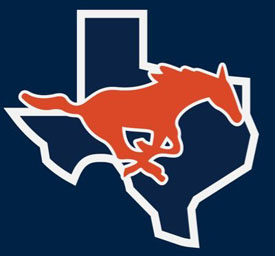 The morning of Wednesday, Feb. 7, held a special air of excitement at Sachse High School as 25 athletes, the largest group of signees in Garland ISD, as well as the largest in SHS history, celebrated National Signing Day.
SHS campus athletic director and head football coach Mark "Red" Behrens expressed pride in the student athletes' accomplishments.
"We are always very proud of our Sachse athletes," he said. "But this is always a special day for all our athletes. They will be taking the next step, not only in their athletic careers, but also in their lives."
The coach stressed that the students earned their scholarships through hard work in the classroom as well as all the hours spent on their fields of play.
Later in the day, the SHS student athletes, as well as other Garland ISD signees celebrated National Signing Day at the Curtis Culwell Center. Garland High School 2010 graduate Adrian Phillips spoke to the district's signees. Phillips was an all-state, all-area and all-district football standout during his time at GHS. He then attended the University of Texas at Austin on an athletic scholarship. In 2014, he signed with the Los Angeles Chargers.
Sachse HS signees are listed below:
| | | |
| --- | --- | --- |
| Sport |  Name | School Commitment |
| | | |
| Softball | Savana Williamson | Navarro College, Corsicana, Texas |
| | | |
| Baseball | Dewayne Russell, Jr | Richland College, Dallas, Texas |
| | | |
| Baseball | Preston Baumgartner | Midland Junior College, Midland, Texas |
| | | |
| Volleyball | Jada Carter | Southern University, Baton Rouge, Louisiana |
| | | |
| Girls Soccer | Brittnee Clinebell | Brookhaven College, Farmers Branch, Texas |
|   | | |
| Girls Soccer | Gabriela Garcia | University of Texas – Tyler, Tyler, Texas |
| | | |
| Girls Soccer | Victoria Shelton | Sul Ross State University, Alpine, Texas |
| | | |
| Girls Soccer | Samantha Upton | Midwestern State Univesity, Wichita Falls, Texas |
|   | | |
| Girls Soccer | Caitlyn McDonald | Sam Houston State University, Huntsville, Texas |
| | | |
| Girls Soccer | Niah Johnson | Mississippi State University, Starkville, Mississippi |
| | | |
| Football | Isaiah Humphries | Penn State University, University Park, Pennsylvania |
| | | |
| Football | Charles Thomas | Southwestern College, Winfield, Kansas |
| | | |
| Football | Cameron Flowers | Southern Nazarene University, Bethany, Oklahoma |
| | | |
| Football | Desmund Nixon | Ottawa University, Ottawa, Kansas |
| | | |
| Football | Kevin Valdez | Southwest Baptist University, Bolivar, Missouri |
| | | |
| Football | David Uwubanmwen | Midwestern State University, Wichita Falls, Texas |
| | | |
| Football | Cedric Johnson | University of Mary, Bismarck, North Dakota |
| | | |
| Football | Christian Cole | Arkansas Tech University, Russellville, Arkansas |
| | | |
| Football | Chase Davis | McNeese State University, Lake Charles, Louisiana |
| | | |
| Football | Calvin Barkat | McNeese State University, Lake Charles, Louisiana |
| |   |   |
| Football | Miles Macadory | Texas State University, San Marcos, Texas |
| | | |
| Football | Zachary Gilson | University of Texas – San Antonio, San Antonio, Texas |
| | | |
| Football | Tyler Lacy | Oklahoma State University, Stillwater, Oklahoma |
| | | |
| Football | Drue Jackson | Washington State University, Pullman, Washington |
| | | |
| Football | Jalen Mayden | Mississippi State University, Starkville, Mississippi |