Small-business owners receive grants

The Garland Chamber of Commerce, as part of its role in the development of the local economy, awarded total of $50,000 in grant funding to nine Garland small-business owners at a luncheon Nov. 13.
After a strenuous application and interview process, the nine recipients listed below were selected to receive varied sums of grant funding, allowing them to pursue projects in marketing, fixed assets or professional services that will better equip their businesses for continued growth and success.
3Q Fitness CrossFit Garland
Brace Manufacturing
Brant's Lawn Care, LLC
Diamond Light LLC
Intrinsic Smokehouse & Brewery
JCi Creatives, LLC
Su Clinica Familiar
Rosalind Coffee
Sazón Mexican Home Cooking
The Chamber's goal in providing Garland small businesses with grant funding is to encourage sustainable growth among our vibrant small business community and to recognize individual business owners who through their own determination and success contribute to the sustainability of the Garland economy as a whole. Chamber CEO, Paul Mayer, is excited about what the grant funding will do for the community.
"We recognize that more than 95 percent of our 9,000 companies are small a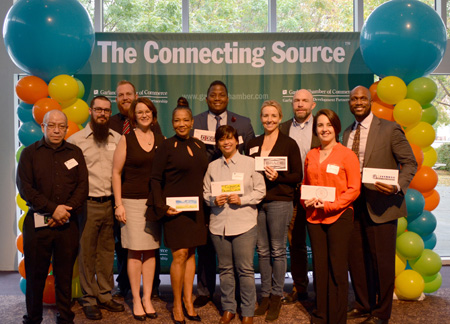 nd collectively account for a huge part of the tax base and employment in Garland," Mayer said. "Our goal with the grants is to identify and recognize companies that demonstrate the willingness and ability to grow and provide a model for success that others will follow."
Small-business owners will soon purchase equipment, launch marketing campaigns, and hire services according to the needs outlined in their applications. The Chamber will work alongside each recipient to ensure they have access to all the resources they need to meet their goals along the way.
To learn more about the Garland Chamber of Commerce and its small business initiative, visit www.garlandchamber.com.
Information and photo provided by Garland Chamber of Commerce.