Tornado debris removal update: Final pass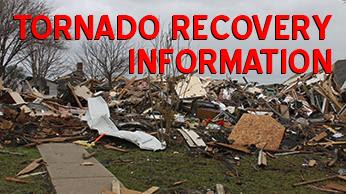 Storm debris removal crews completed the second pass through the tornado impact zone on Tuesday, Jan. 26; the final pass began on Wednesday, Jan. 27. To ensure the final pass is completed as quickly as possible, property owners are urged to have all storm-related debris ready for pickup on the curb or the alley right-of-way by Monday, Feb. 8.
Streets should be kept clear of vehicles to allow access to debris removal crews. If you must park in the street, park one car-length away from each side of the pile so workers can collect debris. Once the final pass is completed, crews will not make additional passes through the impact zone.
Important: Garland's debris removal crews will not pick up debris generated or moved to the curb by contractors. Property owners must work with their contractors to remove such debris. Garland's debris removal crews also will not pick up household waste, recycling or other bulky goods. Regular trash and recycling collection crews will continue working the area on normal collection days.
Additional reminders
Separate the different types of waste on the curb or in the alley (storm debris, vegetation/brush, household trash, recycling).
City crews cannot access private property to collect any type of waste, so make sure it is on the appropriate right-of-way and not blocking streets or alleys.
Do not place storm debris beneath existing trees; this prevents damage to the tree and improves access to the debris removal crews.
For questions about storm debris removal, call 972-205-3366.
Visit the City's tornado information webpage for other updates and information.
Container replacement
To replace trash or recycling containers lost or damaged in the storm, call 972-205-3366 during normal business hours or email EWSCustomerService@GarlandTx.gov.
Special waste
Household Hazardous Waste – Hazardous waste will not be collected by the contractor or city of Garland staff. Residents may take HHW items to Dallas County Home Chemical Collection Center, a free service for Garland residents. A driver's license and Garland utility bill will be required as proof of address.
Dallas County Home Chemical Collection Center address is 11234 Plano Road, Dallas. 214-553-1765.
Website:  http://www.dallascounty.org/department/plandev/hhw_intro.php
White Goods (household appliances) – Residents may bring unwanted household appliances to the Drop-Off Recycling Center, located at 1426 Commerce St.
Electronic Waste (E-Waste) – Electronic items may be taken to the Drop-Off Recycling Center, 1426 Commerce St., through Feb. 13. See a list of acceptable e-waste items.
Residents who have questions or who need assistance with special waste disposal may contact the City at 972-205-3366 through Feb. 13.
For updates, continue to monitor the city's tornado information webpage, Twitter account (@garlandtxgov) and Facebook page (City of Garland, Texas Government).
Information provided by city of Garland.