Storms cause devastation in Garland, Rowlett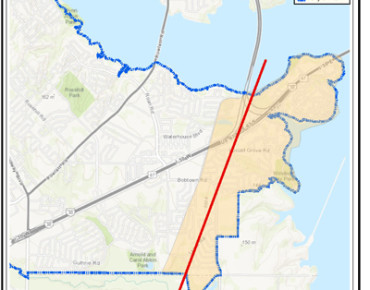 The Garland and Rowlett areas impacted by the tornado have been searched and no more victims were found, leaving the number of fatalities in Garland at eight. There were no fatalities in Rowlett.
National Weather Service meteorologists have concluded that the tornado that hit southeast Garland was an EF-4, which can be accompanied by winds 166-200 miles per hour. This is only the second tornado of this strength in Dallas County since 1950.
In all, nine tornadoes ripped through north Texas and other cities including Rowlett, Copeville, Farmersville, Glen Heights, Ovilla and Red Oak. Three fatalities were reported in Collin County, two were in Copeville and one in Blue Ridge.
According to a city of Garland press release, the area south of I-30 and east of Peninsula Way and south of Locust Grove to include Deep Canyon Drive; Anchor Bay Drive; Greenbrook Drive; 5200-5300 Kelso Lane; Blue Cove Drive; Anchor Cove Circle; Hollow Bend Lane; and Hidden Court has reopened. However, residents returning to this neighborhood should keep in mind that there is no power in the area and dangers, such as downed power lines and debris in the street, still exist.
The remainder of the affected area will remain closed as there could be gas leaks and other hazardous situations.
The damage is in an area of approximately two-square-miles. There are around 600 damaged structures including single- and multi-family property as well as commercial properties. More than 100 residential properties were demolished.
Garland Animal Services worked throughout the day to locate displaced pets. The animals have been taken to the shelter at 600 Tower Street and there will be no fee when they are claimed by their owners.
Garland's Gale Fields Recreation Center at 1701 Dairy Road continues to welcome displaced residents and the American Red Cross is at that location to assist victims as well.
Damage in Rowlett was widespread as well. Rowlett's Mayor Todd Gottel said in a live press conference today that he believes it is a miracle that there were no fatalities. He also said that seeing photos on TV doesn't adequately describe the devastation.
In an evening update, Gottel said that approximately 80 Rowlett homes were destroyed, 187 received major damage and 155 had minor damage.
Steadham Elementary School at 6200 Dandridge in Rowlett was designated as the temporary shelter. Additionally, the American Red Cross has established an assistance location at 3700 Chaha Road. There is also a 24-hour curfew in the affected areas in Rowlett.
Garland Mayor Douglas Athas and Rowlett's Mayor Gottel have declared a state of emergency in each city.
The Garland ISD geared up quickly to establish three drop-off points for items that the victims might need and by late afternoon, had received so much that they stopped accepting donations.
Any individual or group would like to volunteer to help or donate goods or services should register online at www.GarlandTX.Recovers.org.