Special Olympics showcase athletic abilities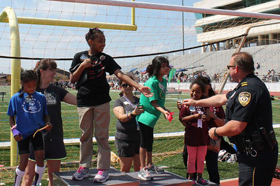 Elementary school students from across the district enjoyed a fun-filled day of friendly competition at GISD's Special Olympics Track & Field event April 25. Staff, peers, family members and local officials gathered at the outdoor event to cheer on the competitors in this athletic event, who previously performed at basketball and bowling events earlier this year.
See more athletic talent at the rescheduled Secondary Special Olympics Track & Field Competition, set for Tuesday, May 23, at Williams Stadium.
About the program: The sport of athletics encourages athletes of all abilities and ages to compete at their optimum level. Through the track-and-field-based athletics training program, participants can develop total fitness to compete in any sport. As with all Special Olympics sports, athletics offers athletes the opportunity to learn through skill development and competitive settings and to be involved in large social settings.
Information provided by Garland ISD. Photos courtesy of Garland ISD physical education coordinator Louise Gartrell.