Students singled out as state's top leaders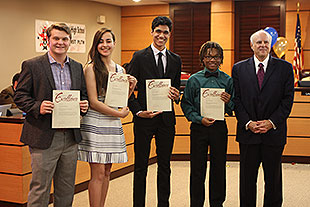 As high school seniors, four Garland ISD students can be considered leaders among their peers. But a recent recognition shows that leadership reaches beyond campus walls as well.
Every year, the Military Order of the World Wars organization sponsors outstanding high schoolers to attend summer Youth Leadership Conferences. The group's Dallas Chapter—which is comprised of active, retired and former military officers—interviewed 300 students from 36 campuses in the Metroplex, for the opportunity this year. Just 77 of the hopefuls were selected, including Claire Sisk and Josh Mathew from Garland High School, Tristan Dunn from Naaman Forest High School and Elias Brown from South Garland High School.
GISD students joined 320 others for five days of leadership training, history, government and economic lessons at the conferences. During closing ceremonies, six attendees were singled out by their peers for going above and beyond. Among them were Sisk, Mathew, Dunn and Brown.
All received Bronze Patrick Henry Awards for outstanding leadership and were recognized at a luncheon hosted by the Dallas Chapter this fall. Dunn was also named the top student at his conference, making him eligible to compete in the organization's national essay contest.
"I would like to thank the Military Order of the World Wars for this life-changing experience," said Dunn after being further recognized by the district's Board of Trustees in November. "I would also like to thank my principals and counselors for nominating me and giving me the opportunity to go."
Information provided by Garland ISD.