Students at Texas universities win annual scholarship competition

The Headliners Foundation of Texas today announced winners of $66,750 in scholarships for the 2017-2018 school year. The awards go to 16 undergraduate students at schools throughout the state showing outstanding potential in journalism.
In addition to strong academic records and writing ability, the 32 applicants from 12 Texas universities were expected to have demonstrated their interest in journalism by working on student media or as interns for professional media outlets. The scholarships range from $750 to $6,000.
One of the winners of the Founders' Scholarship was Jacquelyn Elias from Garland, Southern Methodist University
Applications were received from students attending the following 12 universities: Baylor University, Southern Methodist University, St. Edward's University, Stephen F. Austin State University, Texas A&M University, Texas Christian University, Texas State University, Texas Tech University, Texas Wesleyan University, University of North Texas, The University of Texas at Arlington and The University of Texas at Austin.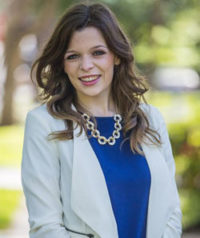 "It is with great pride that we recognize these students with scholarships designed to assist them in reaching their journalistic goals. Their commitment to journalistic excellence across all disciplines is exemplary and worthy of this recognition," said Patti C. Smith, Headliners Foundation Academic Excellence Chair and International Media Consultant. "Over 30 years ago, the Headliners Foundation was established by members of the Headliners Club in Austin to recognize this commitment to journalism. Providing these substantial scholarships to students across the state is one of the important ways we carry out that mission."
The following scholarships are awarded annually: Headliners Foundation Founders (up to $6,000 to each recipient per school year); Sarah and Ernest Butler (up to $6,000 per school year); George Christian (up to $6,000 per school year to a University of Texas student); Sam Wood (up to $3,000 per school year to a Baylor University student); the Stuart Long Scholarship for Aspiring Journalists (up to $9,000 per school year to central Texas Journalism students); the Texas Associated Press Broadcasters (up to $2,000 per year to a journalism/communications student in the broadcast category); and Jack Keever (awarded each semester to the managing editor of The Daily Texan at The University of Texas at Austin).
The Founders Scholarships, the type earned by Jacquelyn Elias of Garland, are named in remembrance of the contributions of early benefactors to the Headliners Foundation, whose gifts provided the funding vehicle for Foundation scholarships and to provide matching grants for substantial future gifts in support of journalism education: Jimmy Banks, Barry Bishop, Paul Bolton, George Christian, John "Brick" Elliott, Wilbur Evans, Jack E. Keever, George Moore, Joe Roddy, Darrell Royal, and Sam S. Wood.
For more information about the scholarship program, visit www.headlinersfoundation.org.
About The Headliners Foundation of Texas: Founded in 1983, the Headliners Foundation of Texas is a 501(c)(3) that promotes excellence in journalism by providing scholarships to promising communications students; recognizing outstanding works of journalism and leaders in the industry; and sponsoring special projects that promote journalistic excellence and preserve history.