Suspect arrested in robbery, sexual assault investigation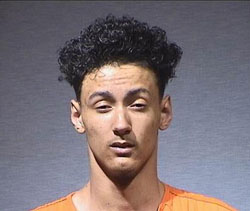 On March 24, Garland Police Officers identified the suspect in the March 22 robbery and sexual assault at the Subway in the 1200 block of Northwest Highway as 20-year-old Joshua Cook.  He was arrested at a hotel in 3600 block of Leon Road and is currently in custody at the Garland Detention Center.
He is charged with one count of aggravated robbery and two counts of aggravated sexual assault related to the Subway offense.
He is also charged with aggravated robbery for an offense March 21 at the 7-11 at 1717 Northwest Highway in Garland.
He is also being held on a robbery warrant issued by Dallas County Sheriff's Office for an unrelated offense.
No bond has been set at this time.
Investigators are asking anyone with information regarding this incident to contact the Garland Police Department at 972-485-4840.