Update: Shooting ends in death of teen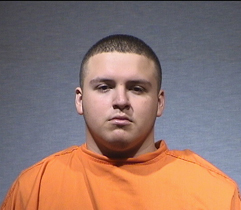 The 15-year-old has died as result of the shooting. The
17-year-old has been charged with manslaughter.
---
On Sept. 26, shortly after 7 p.m., the Garland Police Department responded to the report of a shooting in which a juvenile had been shot. The location of the shooting was a residence in the 3700 block of Burning Tree Lane. Responding officers observed a 15-year-old male subject suffering from a gunshot wound to his head.
The juvenile victim was transported to the hospital in critical condition.
Garland PD detectives responded to investigate the shooting and the investigation led detectives to believe that the victim, a 17- year-old and a third subject (15-year-old witness) were hanging out at the residence with a gun. The 17-year-old pointed the gun at the victim and shot him.
The suspect fled the location, but was found in the 3600 block of O'Henry. He was identified as Andy Erives. Erives was taken into custody and is currently in the Garland Detention Center and is currently charged with Aggravated Assault with a Deadly Weapon.