Join the Texas Community Challenge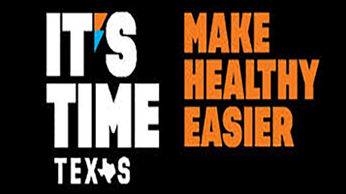 Garland has again joined the It's Time Texas Community Challenge, and the community is encouraged to help! The challenge is presented by H-E-B to unite and mobilize community members, schools, businesses and organizations to see which communities can demonstrate the greatest commitment to healthy living. Communities can earn points by participating in a variety of activities such as posting "healthy selfies," taking healthy pledges and tracking physical activity. The community with the most points earned by March 31 will win the Healthiest City prize for their population size category. Garland won the large city category in 2016, so let's keep the momentum going!
Garland residents are encouraged to register at ITTCommunityChallenge.com. Every registration earns Garland 50 points!
Additional points are earned each time you:
Log your exercise. You can log up to two exercises a day for 10 points each.
Log your weight loss. You can log weight loss once per week, earning 50 points.
Take a healthy selfie and upload it. Every healthy selfie earns us 200 points!
Tips
You have to be pictured in your selfie.
You can upload as many selfies per day as you'd like, but only one selfie per healthy activity.
Healthy selfies can include:
Eating a healthy breakfast, lunch, dinner or snack;
Choosing water instead of other beverages; and
Any type of exercise.
When registering, be sure to select "Garland" as your community.
You may backdate any of your healthy activities from Jan. 1, 2017.
Together, our community can meet this challenge head on! Contact the City of Garland Benefits Department at 972-205-3838 or Benefits@GarlandTX.gov with any questions.
Information and graphic provided by the city of Garland.
The organization's website explains the problem and its mission:
The Crisis: Unhealthy has become the new normal in America. In the last 30 years, the number of overweight/obese kids in the U.S. has tripled, and one-third of all American kids born in the year 2000 are projected to develop type 2 diabetes in their lifetime. Even more alarming, this generation of U.S. children represents the first in more than 100 years to likely have a lower life-expectancy than their parents. Sadly, American adults are faring no better. More than two-thirds of all U.S. adults are overweight/obese, and if these trends continue, nearly 90 percent of all American adults will be overweight/obese by 2030 and the associated healthcare costs will exceed $1 trillion.
Our Cause: IT'S TIME TEXAS, a 501(c)(3) nonprofit, is a statewide organization focused on dramatically improving the landscape of health and wellness in Texas. Our free programs, tools, and services leverage innovative technology and harness the collective power of Texas' leading agencies, institutions, organizations, and companies to empower Texans to lead healthier lives and build healthier communities. Simply put, we make healthy easier in the Lone Star State.