Theft suspect in jail after vehicle pursuit; second suspect at-large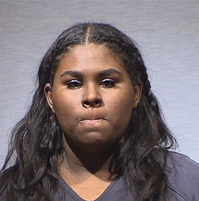 At approximately 1:15 a.m. Jan. 9, the Garland Police Department responded to a theft in progress at ABC Supplies located in the 2600 block of Market Street. Officers were made aware by the alarm company that there was a subject inside the fenced area loading items into a silver Kia.
As officers arrived, the Kia was exiting the fenced area without headlights. Officers attempted to stop the vehicle but it did not stop. The Kia led officers in a pursuit through Dallas, Irving, Grand Prairie and into Arlington.
During the pursuit officers observed bundles of shingles in the trunk of the vehicle and piled in the back seat. The occupants of the Kia began throwing bundles of shingles out of the window attempting to discard the evidence.
The Kia went into an apartment parking lot located in the 2500 block of Burney Street in Arlington and crashed into a vehicle. The unknown driver and passenger, who is identified as 19-year-old Briana Reney Martinez of Arlington, exited the vehicle and began to evade on foot.
Martinez was eventually taken into custody but the driver has not been located.
Officers recovered 27 bundles of shingles that were stolen from the business.
Martinez is charged with Theft, Criminal Trespass, and Evading Arrest. Suspect is currently in the Garland Jail.
This is still an active investigation.