IT'S TIME TEXAS Community Challenge announces winners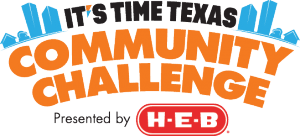 The results are in for the annual IT'S TIME TEXAS Community Challenge, presented by H-E-B, which finished March 31. This one-of-a-kind statewide competition encourages communities of all sizes, including schools, businesses, organizations and mayors, to commit to healthy living and ultimately transform the community's health.
More than 23,000 Texans representing over 330 communities participated; 73 Texas mayors engaged and more than 9,700 combined pounds were lost.
The communities listed below win a $1,800 grant to put toward future community health efforts, an IT'S TIME TEXAS Community Challenge 2017 trophy, a school district banner and a digital badge for their websites. Members of each winning, runner-up and recognized community, as well as the individuals who earned the most points, are invited to attend the 2017 award ceremony April 28 at the Texas State Capitol in Austin. All 73 mayors who took the challenge pledge will also be invited. State Representative Jason Isaac will present the awards this year.
2017 Community Challenge Champions:
     METRO: Austin
     MID-SIZE: Garland
     LARGE: Coppell
     SMALL: Prosper
     EXTRA SMALL: Dripping Springs
2017 School District Challenge Winners:
     METRO: Northside ISD (San Antonio)
     LARGE: Garland ISD
     MID-SIZED: Harlingen CISD
     SMALL:Coppell ISD
     EXTRA SMALL: Ennis ISD
"Our fifth-annual Community Challenge was the most successful to date, with repeat winners as well as first-timers making the leaderboard," said Baker Harrell, PhD, founder and CEO of IT'S TIME TEXAS.
"The statewide competition was fierce in every size category and the photos and stories we've collected throughout the competition demonstrate the powerful momentum of the movement for a healthier Texas. Communities of all sizes organized local initiatives for this competition that fit their diverse cultures and needs – everything from walking groups, to workplace Zumba, to community gardens, to forming Mayor's Health & Fitness Councils. The impact of these initiatives and the new relationships formed will last far beyond the three-month Challenge."
Within the first five years, the IT'S TIME TEXAS challenge has inspired more than 3 million healthy actions and has engaged more than 550 Texas communities of all sizes. H-E-B is the Presenting Ally of the Community Challenge and a Founding Ally of IT'S TIME TEXAS, along with Blue Cross and Blue Shield of Texas, SNAP, and The RGK Foundation. IT'S TIME TEXAS's year-round strategic partners include ATPE, TAHPERD, Texas PTA, United Way, and the UT School of Public Health Michael & Susan Dell Center for Healthy Living.
About IT'S TIME TEXAS: IT'S TIME TEXAS is a first-of-its-kind social change organization that motivates and mobilizes Texans to make healthy easier where they live, learn, work, worship, and shop. IT'S TIME TEXAS focuses on uniting and equipping the Motivated — an army of passionate individuals, institutions, and organizations committed to improving the health of their communities. Person by person and community by community, IT'S TIME TEXAS is creating significantly healthier people, places, providers, and policies for the Lone Star State and, ultimately, the nation.
Learn more at www.itstimetexas.org, like on Facebook at www.facebook.com/itstimetx, follow on Twitter at www.twitter.com/itstime and Instagram at www.instagram.com/itstimetx.