It's Time Texas Community Challenge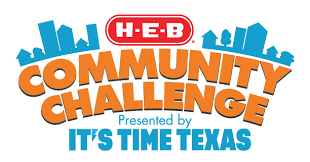 Garland has once again joined the It's Time Texas Community Challenge, and the community is encouraged to help! The challenge began Jan. 8 and is presented by H-E-B to unite and mobilize community members, schools, businesses and organizations to see which communities can demonstrate the greatest commitment to healthy living.
Communities can earn points by participating in a variety of activities such as posting "healthy selfies," taking healthy pledges and tracking physical activity. The community with the most points earned by March 4 will win the Healthiest City prize for their population size category. Garland won the large city category in 2016 and 2017, so let's keep the momentum going!
Garland residents are encouraged to register at ITTCommunityChallenge.com. Every registration earns Garland 500 points!
Additional points are earned each time you:
Take a healthy selfie whenever you're eating healthy or participating in a physical activity to earn 200 points. At least one person must be present in the photo.
Utilize the Fitness Tracker daily or Sync with Map My Fitness/Fit Ranking for 50 points. You may earn points for tracking your physical activity up to two times per day.
Utilize the Weight Tracker to track your weight weekly to receive 100 points.
Watch the Living Healthier Video Lesson and answer some questions to earn 200 points.
Host a community event for 250 points. This must be a free, public, fitness-focused event the entire community can enjoy.
Click hereto learn more ways you can help.
Tips
You have to be pictured in your selfie.
You can upload as many selfies per day as you'd like, but only one selfie per healthy activity.
Healthy selfies can include:
Eating a healthy breakfast, lunch, dinner or snack;
Choosing water instead of other beverages; and
Any type of exercise.
When registering, be sure to select "Garland" as your community.
You may backdate any of your healthy activities from Jan. 1, 2018.
Together, our community can meet this challenge head on! Contact the city of Garland Benefits Department at 972-205-3838 or Benefits@GarlandTX.gov with any questions.
Information provided by the city of Garland.