Tips for smooth transition into school year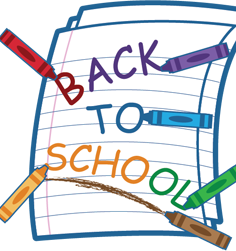 School will be starting before we know it and kids and parents need to begin preparations early. A few tips follow:
Get children started back on their school schedules in advance. Have them go to bed and get up at the same times they will during school for at least a week before the first day.
Take advantage of your children's schools' meet the teacher night. It will make them feel more comfortable on the first day. If the school does not offer that opportunity, try contacting the teacher by phone or email to get acquainted in advance.
Tour the school. Explore with your children at meet the teacher night or call the school and set up a time to do so. This helps children feel more confident on the first day.
Buy supplies together. Make the supplies shopping trip a fun outing with your children. If possible, in addition to buying items on the supply list, let them choose a special item such as a cool spiral, folder or notebook.
Ensure that children are having healthy meals both at home and at school. For families that need help, check whether your kids qualify for any Child Nutrition Programs, like the National School Lunch Program.
Take your child to the doctor, get necessary immunizations and make sure your child has health insurance. Kids need an annual checkup just like adults. At the same time, ask the doctor to check immunization records to see if the child needs any vaccinations or boosters.  Choose health insurance that best meets your needs. For families that qualify, free and low-cost coverage is available through the Children's Health Insurance Program.
Set up a homework area. Remove distractions free of distractions.
Read with your child at least 20 minutes per day. It teaches children the importance of literacy.
If children have lost touch with friends during the summer, encourage them to reconnect with a few of them in advance. This helps alleviate nervousness on the first day.
Sources: www.pbs.org and www.ed.gov