Tonya Adams named Jupiter Chevrolet's Teacher of the Month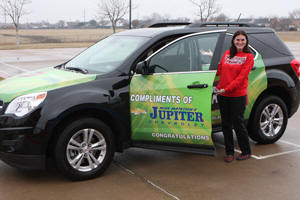 The Jupiter Chevrolet Teacher of the Month SUV has a brand-new owner. Pearson Elementary School's Tonya Adams received the title Feb. 5.
"Principal [Vicki] DeVantier told me she needed to speak with my students and led them out of the classroom," said the fifth-grade teacher. "When I came outside, they surprised me with the car. It was really exciting."
Adams also mentioned the surprise came at just the right time. Her husband's truck does not have a heater and her vehicle is a lease. That makes saving mileage a plus. She will now drive the specially wrapped SUV for the month and park it in front of Pearson every day.
"We want parents and the community to know that we have fabulous teachers here," commented DeVantier. "Tanya is amazing. She can do anything, and when you tell her how good she is, she starts praising someone else."
DeVantier nominated Adams for this month's Jupiter Chevrolet contest. Numerous Facebook votes then helped her win.
"Support came from far and wide," commented Adams. "There were high school friends who stepped up and voted, as well as many past and present coworkers. It makes me feel loved and I would like to say thank you."
Would you like to see your campus represented and your favorite educator named Teacher of the Month? Cast your vote before Feb. 28.