Tow Mater to make appearance at Wheels of Hope Car Show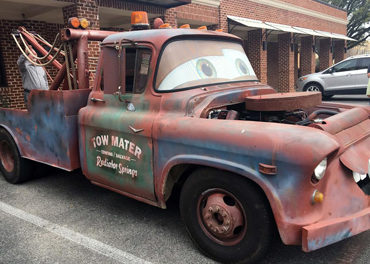 The area's most unique car show for a cause rolls into town Saturday, April 29. But the third Wheels of Hope will not only bring with it classic cars, more than 20 opportunities to win prizes, impressive raffle items and live music. This year's event will also bring movie magic with a reproduction of Disney Pixar's Tow Mater.
Competitors and Cars fans alike are invited to Wheels of Hope from 10 a.m.-2 p.m. in Downtown Garland. Admission is free for spectators and $25 to enter a vehicle. All proceeds benefit the Hope Clinic—a nonprofit offering medical services to those suffering financial hardships.
"We look forward to Tow Mater's first Wheels of Hope appearance this year and also the opportunity to donate even more to the Hope Clinic," said event organizer James Miller. "This car show continues to grow each year, and we cannot thank our supporters enough. We think the size, class and location of our event make it unique. It truly is fun for the entire community."
Boasting 25 competition categories from antique cars and trucks to street rods to foreign and modern makes, Wheels of Hope also features food, fun, fellowship and a pristine parking location: the famous Downtown Garland Square.
Attendees will enjoy mariachi and stomp entertainment by Garland ISD student groups as well as a headline performance by Chaz Marie-Hope and Robert Miller. Auto-themed artwork, including painted hoods and gas tanks courtesy of GISD will also be on display throughout the event.
Bringing children? In addition to Tow Mater, be sure to stop by face painting and hub cap painting areas, as well as GISD's Reading with Rodney mobile library.
Prizes include Best in Class, Best in Show, Best Paint, Chairman's awards and more. Raffle items like car batteries, beautiful blooms from Ruibal's and tickets to the Dallas International Guitar Festival as well as a 50/50 drawing can be won as well.
For more information and to register, visit the Wheels of Hope website.