Celebrate Travis College Hill's inclusion on National Register April 21-22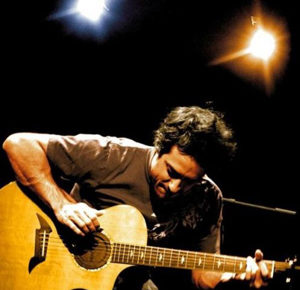 Garland's historic Travis College Hill neighborhood will celebrate its inclusion on the National Register of Historic Places Friday, April 21 and Saturday,
April 22. The festivities will begin Friday night with a concert by gifted fingerstyle guitarist Trace Bundy at 7:30 at the First Presbyterian Church, 930 West Avenue B in downtown Garland.
Bundy delighted a Granville Arts Center audience last fall with his exceptional guitar playing talent as well as his entertaining stage presence. He began playing guitar at age 11 and later made the decision, after earning a master's degree in civil engineering, to pursue a career in music.
The guitarist has played in 28 countries including South Korea, Italy, Zimbabwe and Guatemala and has sold more 110,000 albums on his record label, Honest Ninja Music. His You Tube video clips have been viewed more than 36 million times. He has won numerous awards and shared the stage with notable artists including Brandi Carlisle, Judy Collins, Chris Hillman and David Knopfler.
Tickets, which are available at the door or on eventbrite.com, are $25. Doors open at 7 p.m.
The festivities will continue on 11th Street Saturday, April 22 at noon with the annual Historic Home Tour and unveiling of the National Register of Historic Places marker for Travis College Hill.
The home tour, which has been popular among attendees during past events, will feature several of the historic houses that date back to the turn of the last century.
A new feature of this year's celebration is the "Tell Your Own Story" booth at which guests will have the opportunity to share stories and memories about homes, schools, churches or other places that have been important to them during their lifetimes. Guests will be able to record or share memories in writing.
Home tours will pause for a few minutes at 2 p.m. while participants celebrate Travis College Hill's recent listing on the National Register of Historic Places and a bronze plaque from the United States Department of the Interior is unveiled.
Tickets for the $10 home tour admission are available at the tour. Proceeds will benefit Garland Area Habitat for Humanity, Running 4 Clean Water,
Friedreich's Ataxia Research Alliance and Friends of Garland's Historic Magic 11th Street.
When the 11th Street celebration ends, attends should head for the downtown Garland square where the city's Heritage Festival will take place from 4 p.m. – 8 p.m. The festival will feature tours of historic sites on Main Street, live music, a scavenger hunt, historic displays at the Plaza Theater and more.