Two district campuses awarded second, third Blue Ribbon designations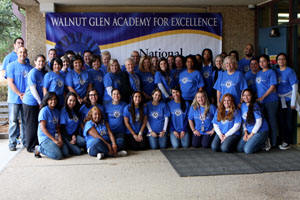 Two Garland ISD elementaries recently became repeat National Blue Ribbon School of Excellence title recipients. Routh Roach Elementary School and Walnut Glen Academy for Excellence received 2014 Blue Ribbon awards, making them two and three-time honorees. As two of just 28 Texas schools to earn the esteemed designation, both campuses were recognized during special ceremonies earlier this spring.
"A Blue Ribbon school exemplifies excellence at every level," said Superintendent Bob Morrison during Roach's celebration. "This is an unbelievable accomplishment. On behalf of the school board and district, thank you for your tireless efforts. I appreciate you very much."
In addition to visits from district leaders, every campus staff member received an official 2014 National Blue Ribbon School pin, a T-shirt, cookies and punch during the congratulatory affairs.
Founded in 1982, Blue Ribbon Schools is a U.S. Department of Education program that recognizes public and private elementary, middle and high schools with high-performing students. Roach secured its first Blue Ribbon in 2006-07, while Walnut Glen obtained their honors in 1996-97 and 2007-08. The road to becoming multiple-time honorees is not an easy one, but Roach and Walnut Glen have a strength in common—hardworking, longtime staff.
"This is such a great honor. The teachers who have been at Walnut Glen for all three awards are pillars in our building," said Principal Alex Rivera. "I have learned so much from them and want to continue to do so."
Five Walnut Glen educators have seen and received all three recognitions. Art teacher Kathleen Hodges is one of them.
"Walnut Glen Academy is a special place. We all feel very fortunate to work here, regardless of the repeated Blue Ribbon designations," Hodges expressed. "While it is always nice to be recognized for our efforts, working with a supportive team of creative educators is what makes WGA extraordinary for me."
And it is teachers like Hodges who help schools go above and beyond for students, resulting in national recognition and a source of pride for GISD and the community alike.