Vietnam Veterans Memorial Wall visits Sachse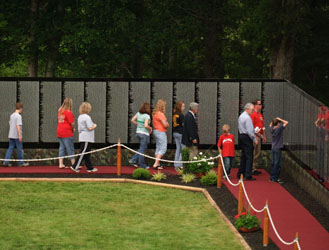 The Vietnam Combat Veterans Memorial Moving Wall will be on display at the Sachse Municipal complex over Memorial Day weekend. Thousands of visitors are expected.
"This will be a rare opportunity for people in the area that may never have the chance to travel to Washington DC to visit the beautiful replica of the Memorial," Moving Wall Committee Chairman Jim Mathis said.
Sachse City Councilman Brett Franks is the event co-chair.
The Wall will be on display continuously from Thursday evening, May 25 through May 29. A special Memorial Day Ceremony will be held at 11:30 a.m. May 29 in front of the wall entrance. The public is invited to attend.
The Sachse Municipal complex is located at 3815 Sachse Rd. in Sachse.
The event is sponsored by the Sachse Historical Society.
About The Wall: "The Moving Wall" is the half-size replica of the Washington, DC Vietnam Veterans Memorial and has been touring the country for thirty plus years. When John Devitt attended the 1982 dedication in Washington, he felt the positive power of "The Wall." He vowed to share that experience with those who did not have the opportunity to go to Washington.
John, Norris Shears, Gerry Haver and other Vietnam veteran volunteers built The Moving Wall. It went on display for the first time in Tyler, Texas in October 1984. Two structures of The Moving Wall now travel the USA from April through November, spending about a week at each site.
A Sponsor is any organization or group of individuals that wants The Moving Wall to visit their area and is willing to do the work to make the local arrangements as described in "Scheduling a Visit of The Moving Wall." Sponsors are frequently civic groups, schools, or veterans' organizations (by michael). Sponsoring normally requires months of planning by dozens of local volunteers.
Information and photo from http://www.themovingwall.org/.