Vintage cars take over downtown Garland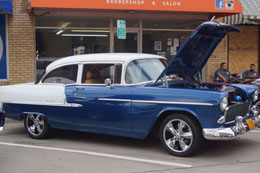 After a postponement due to bad weather Hope Clinic sponsored its third Wheels of Hope car show Saturday, May 27 in downtown Garland. The need to change the date didn't seem to affect the number of vehicle entries or the size of the crowd. Young and old alike enjoyed special activities, entertainment, and, of course, a great variety of cars.
Vintage cars and trucks from the 1930s, 40s, 50s and 60s, included spotlessly restored coupes from the 1930s, 1950s Chevys and 1960s Mustangs. There were pickups from the 1940s, El Caminos, Camaros and more. The Garland Fire Department even brought a vintage fire truck. The kids loved that Tow Mater and Lightening McQueen were also on hand for photo ops.
Wheels of Hope has been a fundraising event for Hope Clinic, a nonprofit health care center, for three years.
According to their website, Hope Clinic provides urgent medical care, health education, encouragement and Christian ministry to Garland's underserved and uninsured residents. In the beginning, the clinic served patients one night a week in borrowed space and is now a full-scale operation seeing approximately 8,000 patients per year.
The clinic has enjoyed a partnership through which Baylor Scott & White Health has provided physicians and staffing for chronic disease management, behavioral health care and more.
There are more than 35 volunteer physicians that include specialties in cardiology, dermatology, endocrinology, gynecology, pulmonology, rheumatology and optometry. The clinic also provides referrals for other services such as surgical, orthopedic, podiatry, urology and dental.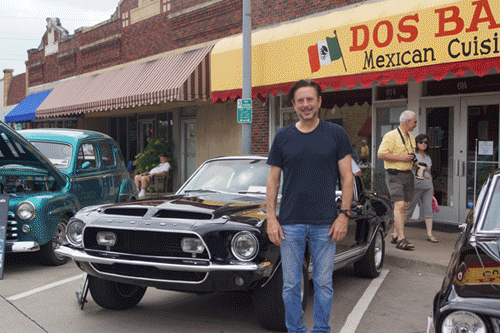 Three years ago, the clinic moved to a 5,400 square foot facility with five examination rooms, a triage area, laboratory, spiritual care room, doctor's office and rooms for health education. The capital campaign that made the move possible also netted enough funds to leave Hope Clinic debt free and ready for growth.
Located at 800 S. Sixth St., Suite 100 in Garland, Hope Clinic is open Monday – Wednesday from 7:30 a.m. – 4:30 p.m., Thursday from 7:30 a.m. – 7:30 p.m. and Friday from 7:30 a.m. to 3 p.m.
Volunteer opportunities are available. Individuals, churches, youth groups, life groups, businesses and civic organizations help the clinic fulfill its mission. Current needs include Spanish translators for physicians, onsite childcare, spiritual care (bi-lingual) administrative support, writing, social media expertise, fundraising and special events.
Visit Hope Clinic's website for more information.
Source: www.hopeclinic-garland.org