Wal-Mart donation drive to benefit GRS Giving Place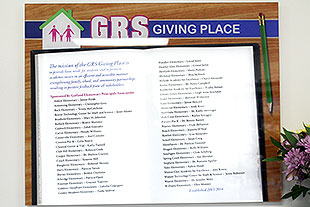 Nearing its one-year anniversary, Garland ISD's GRS Giving Place has provided numerous students with their basic needs while strengthening family relationships, academic readiness and community partnerships. Nearly 200 have been helped this school year alone.
The Giving Place was designed with the district's foster care and homeless population in mind, as well as students and families who have suffered hardships. GISD case managers work with campus counselors across the district to identify opportunities for assistance. Standardized dress clothing, shoes, hygiene products, backpacks, school supplies and other items are then distributed to those in need.
The GISD community can help the district take care of its own by participating in a donation drive at local Wal-Mart stores. Shoes, school supplies, backpacks and hygiene products are being collected from February 16-March 2. Participating Wal-Mart stores include:
5302 N. Garland Avenue, Garland 75040
1801 Marketplace Drive, Garland 75041
555 W. Interstate 30, Garland 75043
430 N. Coit Road, Richardson 75080
2501 Lakeview Parkway, Rowlett 75088
To donate, purchase items and drop them in the purple Champions for Kids SIMPLE Giving program bins in store. All of the donations will be given to The GRS Giving Place, benefitting students throughout the district. Additionally, Champions for Kids will provide $10,000 and $1,000 awards to school districts that collect the most donations from a single Wal-Mart store in each geographic region.
For questions about donations or the Giving Place, contact Emily Jandrucko at ejandruc@garlandisd.net.