Week 3: HS football, Sept. 14-15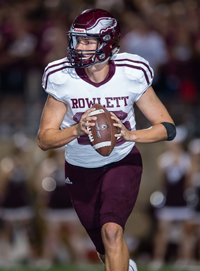 The schedule for week three of the high school football season had the Mustangs and Raiders playing Thursday, Sept. 14, and the remainder of the Garland ISD high schools playing Friday, Sept. 15.
Sachse gets win over Mesquite HS
The Sachse Mustangs (3-0) got a 61-0 win over Mesquite High School Thursday, Sept. 14. Christian Cole scored two of the SHS touchdowns, one on a 21-yard run and another on a 24-yard pass from quarterback Jalen Mayden. Derrick Rose scored on a 15-yard pass from Mayden and Myles Nash caught a 14-yard pass from quarterback Anthony Beltran. Mayden got a TD on a 10-yard run and Torey Washington scored on a 48-yard run.
On defense, Chris Washington added two TDs on a blocked field goal and a fumble. Payton Reyes added 31- and 25-yard field goals.
Sachse collected 340 total yards, 139 passing and 201 rushing.
North Garland defeats Carrollton Newman Smith HS
The North Garland Raiders (1-2) got a 42-14 victory over Carrollton's Newman Smith High School. Jayden Jones scored first for the Raiders on a 33-yard run. Jason Luper scored twice in the first half on a 25- and 17-yard passes from Jon Aguilera. Trae Taylor also got a score on a 1-yard run in the first half and the score at the end of the half was 28-0. Sabron Woods scored in the third quarter on a 1-yard run and Taylor got another TD on a 7-yard run in the fourth quarter.
The Raiders got 479 yards on the game, 168 passing and 311 on the ground. Aguilera passed for 168 yards and Woods rushed for 115.
SGHS gets win over W.T. White HS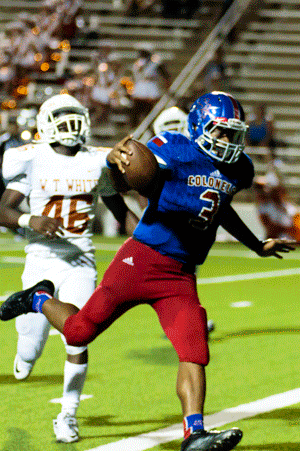 The South Garland Colonels (1-2) defeated W.T. White High School to get their first win of the season. The score was 46-40. Jaquarion Turner got an impressive five touchdowns for the Colonels, on 25-, 75-, 14-, 8- and 51-yard runs. Tajohn Livingston scored on an 8-yard run and Kevonta Wilson scored on a 52-yard run.
Turner rushed for 408 yards. Wilson rushed for 138.
Owls lose to Richardson Berkner
The Garland Owls (0-3) lost to Berkner High School by a score of 35-16. Jaron Holcomb scored for the Owls on a 26-yard run in the third quarter. GHS scored twice in the fourth quarter, on a 24-yard field goal by James Cassidy and a 33-yard pass from Angel Garcia to Jacob Gharis.
Naaman Forest defeats Grand Prairie HS
The Naaman Forest Rangers (3-0) got a 21-0 win over Grand Prairie High School. Daviciea McCartney scored in the first quarter on a 48-yard pass from Thomas Gutierrez. In the second, Ty'Reek James caught a 9-yard pass from Gutierrez for a TD and in the third quarter, Jaylon Dickerson scored on a 24-yard throw from Gutierrez.
James rushed for 168 yards on the night. Gutierrez threw for 117 yards.
LCHS loses to West Mesquite HS
Lakeview Centennial High School (0-3) was defeated by West Mesquite High School by a score of 46-14. Both of the Patriots' scores came in the second quarter on a 22-yard pass from Jaylen Jones to Isaiah Haro-Miranda and a 47-yard throw from Jones to Zikamein West.
Jones passed for 153 yards.
Rowlett Eagles lose to Plano HS
Rowlett High School was defeated by Plano High School by a score of 41-31. Preston Weeks scored the Eagles' first two TDs on 1- and 8-yard runs. Chauncey Amos scored on a 1-yard run in the second quarter and a 2-yard run in the third quarter.
Preston Weeks threw for 197 yards. Jack Prado added a 25-yard field goal.