Week 8: GISD HS football results; Mustangs remain unbeaten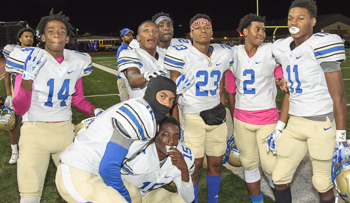 Photos submitted by Roger Mathis, www.mempics.com and Brad McClendon, www.bhmimages.com and Joe Diehl, www.jbdphotos.com
Mustangs defeat Raiders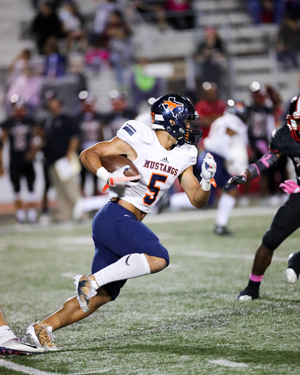 The Sachse Mustangs (7-0) remained unbeaten after defeating the North Garland Raiders (2-6) by a final score of 52-8.
Christian Cole scored twice on 67- and 47-yard runs and Mathew Carter added two TDs on 25- and 59-yard rushes. Drue Jackson added six points on a 4-yard run and Cameron Cromer scored on an 8-yard run. Torey Washington also scored for the Mustangs on an 8-yard run. Quarterback Jalen Mayden added a TD on a 3-yard run.
Mayden ended the night at 7-12 with 169 yards. Cole carried the ball 15 times for 161 yards and Mathew Carter rushed seven times for 128 yards.
Jayden Jones returned an interception on a PAT for the Raiders for two points and Emmanuel Nwawuihe had a 2-yard TD run. NGHS quarterback Jon Aguilera completed 9-28 pass attempts for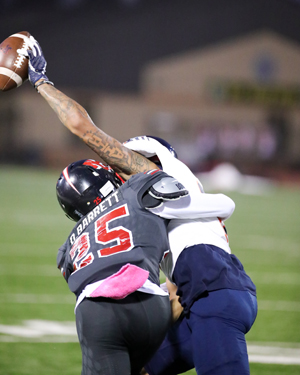 128 yards.
Eagles defeat Colonels
Rowlett HS (4-3) got a win over South Garland HS (1-7). The score was 45-6.
Monyae Lang scored first for the Eagles on an 11-yard run and quarterback Preston Weeks connected with Christian Booker a few minutes later for a TD on a 5-yard pass. Chauncey Amos then scored twice for RHS on 12- and 23-yard rushes. Dakot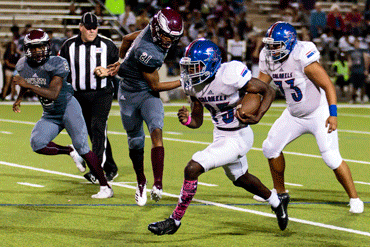 a Gilley caught a 19-yard pass from Weeks for a score at the end of the second quarter.
In the second half, Jerry Evans caught an 8-yard Weeks pass for a TD and Jack Prado added three on a field goal.
Weeks ended the night at 13-17 for 144 yards. He also ran the ball six times for 102 yards. Lang carried the ball eight times for 96 yards.
Jaquarion Turner carried the ball 25 times for the Colonels for 112 yards. D.J. Williams scored a TD for the Colonels on a 4-yard run.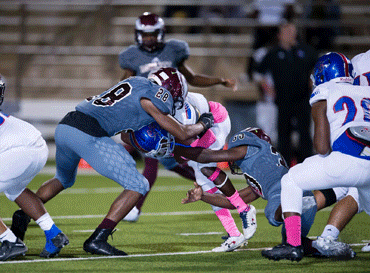 LCHS defeats GHS
The Lakeview Centennial Patriots (3-4) got a win over the Garland Owls (1-7). The score was 41-10. The first quarter was all Patriots as Kamar Wheaton scored two TDs on 16- and 18-yard runs. Maurico Sneed also rushed 45 yards for a TD.
The Owls scored in the second quarter on a 5-yard run by Montana Miller and on a 23-yard field goal by James Cassidy.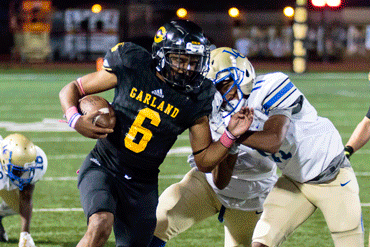 In the third quarter, Zikamein West got a TD on an 8-yard pass from quarterback Jaylen Jones and Te'Darius Herford scored on a 6-yard run. Wheaton scored again in the fourth on a 5-yard run.
Jones ended the game at 8-18 for 100 yards and Wheaton carried the ball 10 times for 184 yards for LCHS.
Trenton Smith collected 123 yards on 26 carries for the Owls.