Young woman defies odds after near-fatal car accident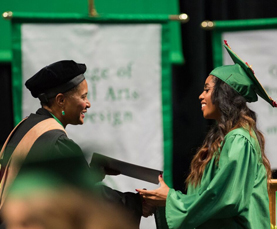 A few years ago, Garland resident Amber Lacy was in a near-fatal accident in Shreveport, Louis., her hometown. She suffered a traumatic brain injury, a collapsed lung and other serious injuries in the car crash that happened shortly after high school graduation.
Amber remembers nothing about the accident, but a friend recalls seeing Amber unconscious with blood coming out of her ears. The friend thought Amber was dead. Thankfully, Amber lived and eventually, the Shreveport hospital she was transported to after the crash transferred her to Baylor Scott & White Hospital in Dallas. There she had to relearn basic everyday skills like reading and writing, listening without being distracted by background noise and getting dressed on her own.
Despite the odds, about four years after rehab, Amber graduated from the University of North Tex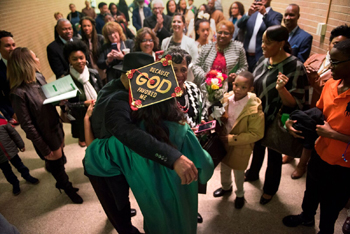 as Mayborn School of Journalism. The graduation ceremony was Dec. 16.
She started out with online classes at LSU Shreveport while she was in rehab then transferred to Eastfield College to take classes on campus when rehab was completed six months after the accident. Her doctors were amazed by the speed of her progress and said that being young helped her recovery go faster.
"I was able to start school with two easy classes," Amber said. "I was still going to physical therapy during that semester and I received assistance from the disability office at school which allowed me to get a little extra attention when needed."
When her mom accepted a job in Dallas, Amber began checking on four-year schools in the area and family and friends in the North
Texas area recommended the University of North Texas.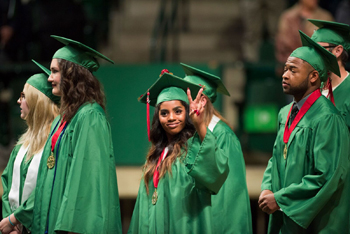 This young woman is an inspiration. Her spirituality, determination and grit helped her recover after the accident, which was a tremendous accomplishment. And then she earned a degree, which is in itself, a tough task. She worked her way back to where she was before the accident and didn't stop there. She didn't give up or give in to self-pity. She just kept pushing through until she reached her goal.
Amber said that during her recovery there were days when she didn't feel like trying anymore, days she felt unmotivated and irritated, but something always pushed her to keep going.
"I remember looking on social media sites and seeing how much fun my friends were having while I was in the hospital and I wanted to get better aga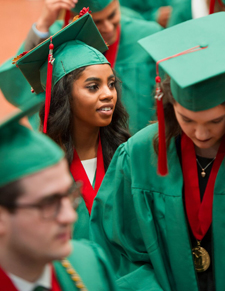 in so I could join them," she said. "That could possibly have played a role; but my family played a HUGE role in my recovery. They gave me so much love and support that I didn't have bad days often, but I did have some."
She was grateful to her friends and family members that made the trip from Shreveport to visit her in the hospital in Dallas.
"That really showed how much they loved me because I don't know too many people who would drive more than three hours to watch someone lay in bed," she joked. "But we made the best of it by playing games or watching movies."
Amber's best advice to anyone going through a difficult situation like hers would be lots of prayer and patience, which were an extraordinary help to her.
"I would tell them that I know it's hard now, but it is true when people say there is a light at the end of the tunnel," she said. "Also, never forget who was there to support you in good and bad times and keep them close."